Heavy Duty Overhead Crane for Ironwork
Application:
The heavy duty overhead crane for ironwork is a piece of vital equipment used in the continuous casting process of steelmaking. It is designed for hoisting and transporting molten steel ladles. The crane is constructed to handle high temperature, high dust, and corrosive gases in its working environment. The working environment temperature is -20°C~60°C.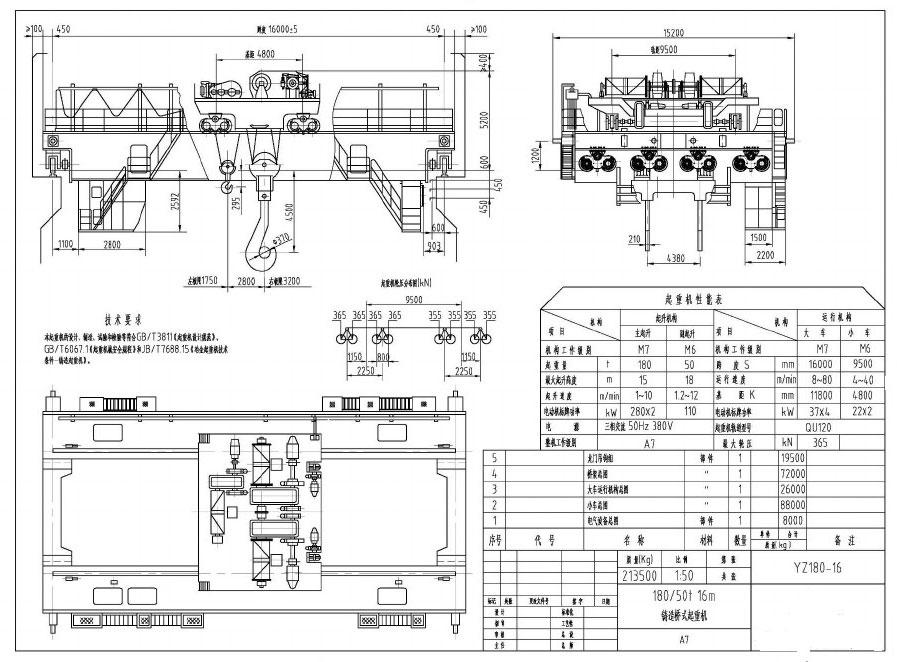 Parameters:
lifting Capacity
Main Hook
t
100
125
Vice Hook
32
32
Span
m
19.5
22.5
25.5
28.5
19.5
22.5
25.5
Lifting Height
20
20
22
22
Working Mechanism
A7
A7
Speed
Main Hook
m/min
7.5
7.5
Vice Hook
10.5
10.5
Trolley Working
38
38
Cart Working
68
79.7
Limit Size
L1
mm
1600
1600
L2
2200
2200
L
2500
2450
h
3997
4097
h1
2300
2300
Main Size
H
mm
4900
5150
H1
2687
2687
B
14500
14900
K
9200
9600
B1
410
410
Max wheel-pressure
kN
486
516
540
560
605
618
632
Motor Power
kw
393
479
Recommended Steel Track
QU120
QU120
Power
3AC 50Hz 380V
3AC 50Hz 380V
Features:
Heavy duty overhead crane for ironwork allows for high full load rate and high full load frequency. The load-up state is Q3 or Q4. Therefore, the working classification grade of the heavy duty overhead crane for ironwork is between A7 and A8.
From the overall structure, the heavy duty overhead crane for ironwork can be divided into various types: double-girder double rail, four-girder four rail, four-girder six rail and other types. The first two types are generally used for medium and large tonnage casting machines, and the third one is generally used for extra-large tonnage casting cranes.
The heavy duty overhead crane for ironwork is mainly composed of five parts: the main trolley, the sub-trolley, the bridge structure, the cart operating mechanism, the gantry hook group, and the electric drive device and electric control device.
The fixed gantry hook group is suspended on the main trolley by wire ropes, and the distance between the two board hooks is fixed to finish the lifting of the ladle.
The two trolleys can be individually operated to complete various lifting operations, and can also be used in combination to complete the tipping of steel ladle, the disposal of residual steel and slag treatment.
All the mechanisms of the cranes are equipped with limit switches to ensure safety during operation.
Our heavy duty overhead crane can offer these following functions for users' choice of: rotatable lifting appliance; convertible hook distance of the gantry hook; the weight and display of the load.