Application:
The overhead lifting bridge crane with electric hoist is suitable for general lifting for loading and unloading operations in machinery manufacturing workshops, metallurgical plant auxiliary workshops, warehouses, stockpile, assembly stations, power station maintenance and other places. The suitable temperature range of its working environment is -25-40°C. It is not suitable for mediums with explosion risk or fire hazard. It is not suitable for installations with relative humidity greater than 85% or corrosive environments. It is also not suitable for lifting dissolved metals and toxic, flammable, or explosive items.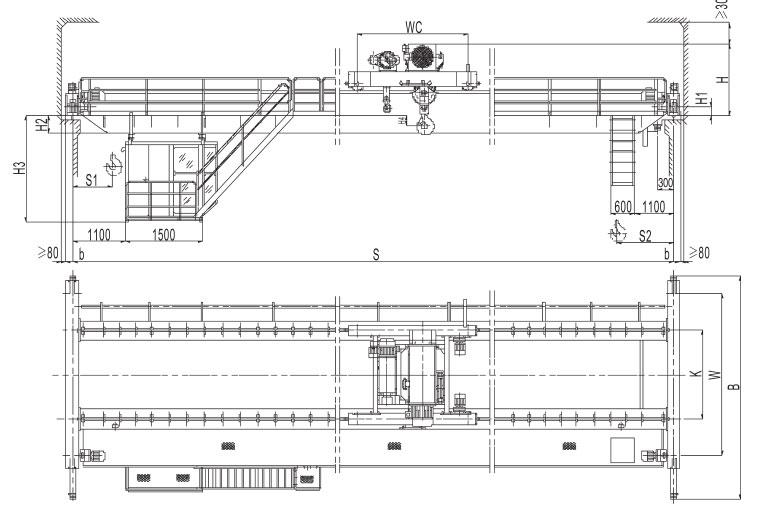 Parameters:
Gn=10t S=10.5~16.5
Rated lifting capacity
t
10
Span S(m)
10.5
13.5
16.5
Lifting speed
m
7
7/0.7
Trolley
Gauge S2(m)
1.4
Lifting Height
m
6
9
12
Working Speed (m/min)
20
Classification grade
A5
Wheel Diameter D2(mm)
Φ270
Operation type
air operation or ground operation
Running motor
ZDY₁ 21-4 1.5KW×2
Elec-trichoist
Type
Single Speed HDD-5, Double Speed HDS-5
Cart
Basal spur W1(m)
3.2
3.4
Motor
Type
ZD₁41- or ADS₁41-4
Working Speed (m/min)
20
Power
KW
131.5/13
Wheel Diameter D1(mm)
Φ270
Rotational Speed
m/min
1380
Length of gear boxes B1
3.6
3.8
Supporting power
3-phase 380V 50HZ
Operating Mechanism of bigcrane
Motor
type
Wire cable number
piece
4
Power(KW)
Wire rope diameter
mm
15
Rotational Speed (r/min)
Winding drum
diameter
mm
Φ342(about)
Reduction drive
type
LDA
length
mm
800
980
Speed ratio(i)
57
pathway
For small crane
Kg/m
24
Max wheel-pressure
KN
80.8
85.9
96.3
For big crane
38~42
Total Mass
t
8.4
9.24
11.4
S1
10.5
13.5
16.5
S2
1400
B1
3600
3800
W1
3200
3400
H1
1650
H2
370
H3
727
Features:
This series of products have features compact dimensions, low building headroom, light weight, and low wheel pressure.
This electric double-girder bridge crane uses fixed-type wire rope electric hoist for its lifting structure (the main hook and the sub-hook). These cranes are mounted on a two-wheeled trolley that is matched with a double girder bridge. They can be divided into two kinds: double speed crane and single speed crane. It is typically used in single speed if the user has no special request, which means single speed is most common during ground operation.
There are 144 specifications in two varieties: cab control and ground control (handle control and wireless control). There are two kinds of operation rooms: open operation rooms and closed operation rooms, and according to the actual situation-installation types, they can be divided into two types: left side installation type and right side installation type. In addition, there are three kinds of enter direction: front side, end side, and top side, so we can meet the user's choice in a variety of different needs.
This electric double-girder bridge crane consists of four main components: bridge, cart, trolley and electric accessory.
Lifting capacity is divided into1t, 2t, 3t, 5t, 8t, 10t, 12.5t, 16t, 20t, 32t, totally 10 tonnages.
The crane operation, trolley running and hoisting mechanism are all related to limit switches, which can prevent these mechanisms on movement stroke. So in this way we can guarantee the operation safety.
Index
heavy lift crane, industrial crane, lifting equipment, overhead travelling crane