Application:
The overhead bridge crane is a general lifting unit that is widely used in indoor and outdoor warehouses, factories, docks, and open storage yards. It is suitable for lifting and loading/unloading operations in workshops and other industrial applications. It is not suitable for use for high temperature (>40°C) and low temperature (<-20°C) environments.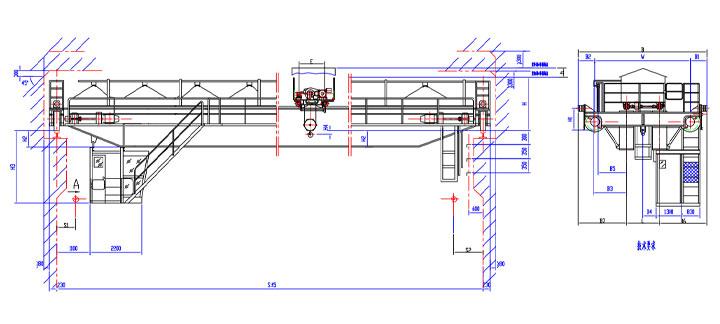 Parameters:
lifting Capacity(t)
5
10
16/3.2
20/5
32/5
50/10
Classification grade
A5
A6
A5
A6
A5
A6
A5
A6
A5
A6
A5
A6
Cart Working Speed (m/min)
65
93
65
93
55
85
55
85
56
75
60
75
Main\Vice Lifting speed(m/min)
11.3
15.6
7.8
10.3
7.9/11.3
12/14.5
7.2/11.6
12/15
7.6/11.5
9.5/15
5.2/9.9
7.0/9.9
Max Lifting Height(m)
16
16
16
16
16
16
16
16
14
14
12
12
Trolley Working Speed(m/min)
40
40
37
37
37
37
37
37
37
37
38
38
Power
3AC,50HZ,380V
3AC,50HZ,380V
3AC,50HZ,380V
Recommended Steel Track
24Kg/m~30Kg/m
24Kg/m~30Kg/m
38Kg/m~50Kg/m
Crane Capacity(KW)
19.9
27.5
21.6
39.2
53
75
56
86
79.5
105
106
134
Features:
The overhead bridge crane is a small general bridge crane, the crane finishes longitudinal movement by the direction of the bearing track on a crane girder in the workshop and finishes the working process by the trolley's lateral movement and the lifting of the hook. The lifting Capacity ranges from 5 ton to 50 ton.Its working classification grade is A5-A7.
There are three types of control methods: ground control, control room control, and remote control.
The whole bridge crane is composed of four parts: bridge, trolley (with hoisting mechanism and operating mechanism), crane operating mechanism and electrical equipment.
The crane has three working mechanisms: hoisting mechanism, trolley operating mechanism and crane operating mechanism. Each mechanism is equipped with a separate electric motor for its own operation.
The cranes of classification grade A5 are suitable for workshops with low workloads, such as the general machinery processing and assembly workshop, metal structure workshop, machinery maintenance workshop, etc.
The cranes of classification grade of A6, A7 are suitable for situations with high working frequency, and can also be used for ancillary lifting equipment in metallurgical and foundry workshops. The temperature of its working environment is -25-40°C. And the humidity should be lower than 85%.
This bridge crane need a rainproof device when it is used in open door situations.
The crane has advantages of high working classification grade, good stability, safety, and low failure rate. The crane's speed parameters can be modified according to user requirements.
Because of the relatively large external dimensions, the crane requires a relatively large reserved installation sized factory.
Index
heavy duty crane, overhead crane, industrial lifting equipment