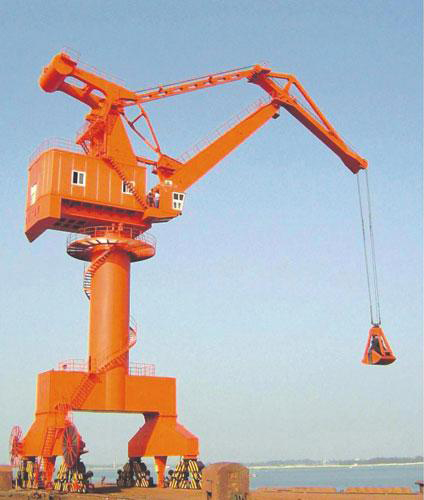 Application:
Taixin heavy duty port cranes are used for mechanized loading, unloading, and transporting items in port, dock, and marine vehicle applications. The working characteristics of the crane are designed to improve loading and unloading productivity, accelerating the turnover frequency of shipping vessels.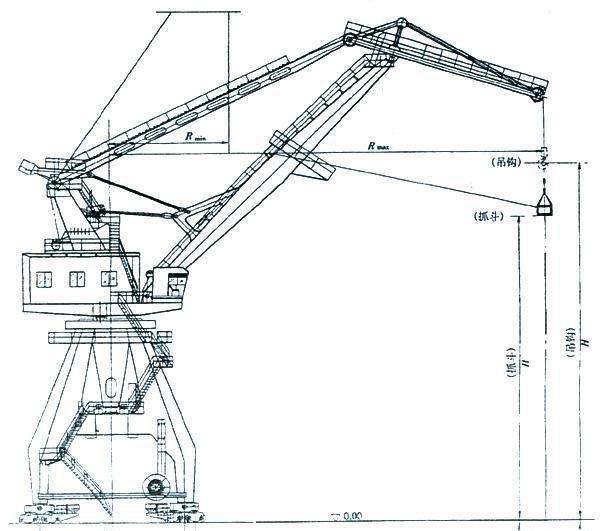 Parameters:
Product Specifications
MQ1033
MQ1633
MQ2533
MQ4035
Lifting Capacity (Grab Bucket/Hook)
t
10/16
16/25
25/40
40
Classification grade
A8
A8
A8
A8
Scope
Max (Grab Bucket/Hook)
m
33/25
33/25
33/25
35
Min
9
9.5
9.5
10
Lifting Height
On the Track(Grab Bucket/Hook)
18/25
19/28
19/28
18/25
Under the Track
16
15
15
15
Operating Speed
Lifting (Grab Bucket/Hook)
m/min
60/45
60/30
50/25
55
Luffing
52
52
45
40
Moving
26
25
25
26
Rotation
r/min
1.5
1.4
1.2
1.2
Max Wheel Pressure/Recommended Steel Track
kN
250/QU70
250/QU70
250/QU70
300/QU100
Track Gauge
m
10.5
10.5
10.5
10.5
Installed Capacity
kW
298
429
557
733
Total Height
m
48
51
52
53
Features:
Heavy duty port cranes are whole turn-over boom cranes which are installed on ground tracks. They have four working mechanisms: lifting, luffing, turning and running mechanism, and the work place is relatively fixed.
Heavy duty port cranes adopt tracked operating mechanism, and is driven by electricity. So every operating mechanism is motor driven.
Heavy duty port cranes' luffing mechanism is quite complex, because every cycle has luffing with cargo. And the crane adopts a balanced boom amplituding system.
The hooking tools are hook and grab bucket, so they have a wide application range.
Heavy duty port cranes adopt an optimized four-bar linkage mechanism, and the accuracy of horizontal luffing variation is high; the operating device can finish 360-degree full rotation, so they have large working range, wide operating range, large lifting height, high working speed, and high productivity.
Their lifting feature is that the lifting weight does not change with the position change of the banging device that means, the maximum lifting capacity can be achieved within its full working range.
Heavy duty port cranes have complete safety protection device, communication system, and lighting system.
Index
container crane, industrial crane, shipyard crane, lifting equipment